The Special Systems and Technologies Group of Companies (SST Group), the Russian market leader for electric heating systems, has launched a new project within the electrical products segment. Under the brand OneKeyElectro Russian consumers will be presented with high-quality wiring accessories developed by Russian designers and engineers, which harmoniously combine reliability, aesthetics, functionality and ergonomics.
The first product released under the project OneKeyElectro, were steel wiring accessories under the Florence series, official sales of which on the Russian market began in December 2016.
In creating the unique Florence range, SST Group designers drew upon Renaissance canons, blending them with the capabilities of modern technologies. The solution was created taking inspiration from the architecture of Florence Cathedral, Santa Maria del Fiore, created by the Renaissance architect Filippo Brunelleschi. The harmony between round and square shapes, the celebration of ideal proportions, the golden ratio: these core foundations were laid more than 6 centuries ago, and are embodied in the Florence wiring accessories range.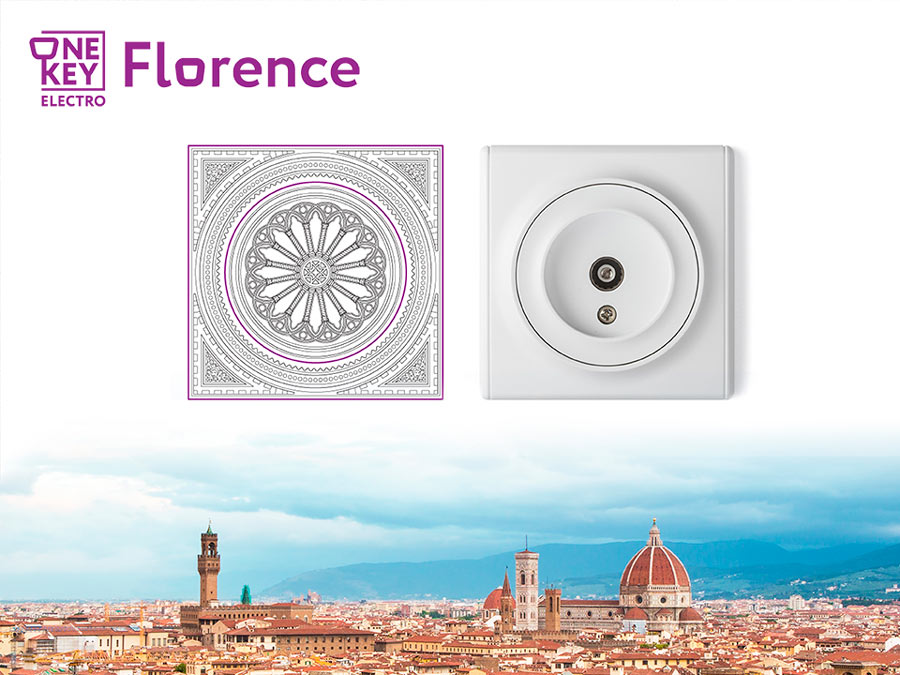 The Florence Series colour palette comprises four shades - white snow, vanilla cappuccino, smoky opal and black night. With their unusual matte surface, Florence wiring accessories are a comprehensive solution. The surface does not create additional optical highlights, it is wear-resistant and non-marking, so fingerprints and marks won't stick.
For the serial production of sockets and switches, polycarbonate - an eco-friendly, durable and safe material in terms of fire requirements was chosen. During the production of plastic components, the dye is added directly to the polymer mass, which guarantees an even colour coating to all plastic components and increases the wear resistance of buttons, switches and front panel sockets.
A uniform style flows throughout all different mechanisms of the Florence series, which includes traditional switches and sockets, as well as various information outlets, illuminated switches, single and double switches and dimmers.
The Florence Series is designed for a wide range of customers and has an optimal "price-quality" ratio. It is designed for discreet installation in rooms and blends seamlessly into the interior of apartments and houses, restaurants and clubs, offices and administrative buildings.
The quality and reliability of the Florence series is assured thanks to the 25 years of experience and expertise of SST Group as an electrical equipment manufacturer, its use of only quality materials, as well as a responsible approach to certification and strict quality control of wiring accessories. The Florence Series has successfully been through testing and comes with all the relevant certificates, including a fire safety certificate.