In Nikolay Hrenkov's "Testing of Series Resistance Heating Elementsin Accordance with IEC Standards" changes and additions to the list of test methods for distributed electric heaters, provided in the new versions of international standards and 60079-30-1-2015 60079-30-2-2015 ("Electric resistive distributed heaters" are discussed. These standards are part of a group of standards from the International Electrotechnical Commission IEC) and the American Institute of Electrical and Electronics Engineers (IEEE), relating to products and devices installed and operated in hazardous areas.
VA Bardin's article "The use of unified design solutions in electrical heating systems" describes the main stages of the SST Energomontage project to equip a gas treatment for transport installation with heating systems at the "Krasnodar" compressor station (CS). This facility, which provides training for the transportation of natural gas through the pipeline "Dzhubga-Lazarevskoe-Sochi", became one of the most important elements of the energy infrastructure for the XXII Winter Olympic Games in Sochi.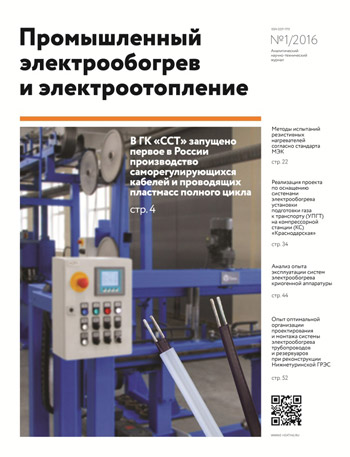 OV Falin, MV Rubtsov, MS Zubarev, and EE Falin's article "Analysis of the operating experience of electrical heating systems' cryogenic equipment" analyses the experience of building and operation of the electric-cryogenic valves on the existing air separation plant. The designs for heaters, electrical circuit systems and automatic temperature control are provided.
SN Perepechai's article "Experience of optimal organization of design and installation of electric heating system of pipelines and tanks in the reconstruction of the Nizhneturinskaya TPP" discusses the "Cable Systems and Technology" for the design, supply, installation and commissioning of electrical heating cable systems of pipelines and tanks Nizhneturinskaya thermal power plant. A key feature of this project was its realization in as short a time frame as possible.
In his article "SST Energomontage explosion-proof components for automated control systems for industrial electric heating," AV Mokhov talks about the collaboration of SST Energomontage with the company Wago in the development and construction of automated control systems for industrial heating in explosive environments.
AS Seleznyov and AV Mirzoyan's article "'SST New Releases' at the largest HVAC industry forum" provides an overview of new solutions and products for the heating, water supply and sanitary engineering industries, which SST presented at the Aqua-Therm Moscow 2016 international exhibition.
In December 2015, member of the editorial board and a regular contributor to our magazine, Professor of the MEI National Research Institute, Doctor of Technical Sciences, Honoured Scientist of the RF, Academician of the Russian Academy of Electrical Sciences — AB Kuvaldin, celebrated his 80th birthday. In the "Top People in the Industry" section we publish an interview with Alexander, in which he talks about his scientific work and collaboration with SST Group.