On April 13, SST head office received a visit from pilot-cosmonaut, Hero of Russia, and Advisor to the Governor of the Moscow Region — Maxim Suraev. He was accompanied by the first deputy head of the Urban District of Mytishchi, Andrey Churakov.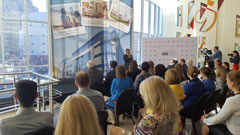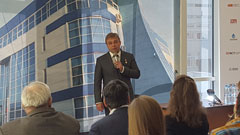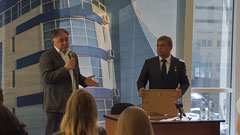 SST CEO Mikhail Strupinsky told the guests about the activities of the company and gave them a tour of the manufacturing facility. The governor's advisor applauded the active participation of SST Group in the process of import substitution and the manufacturing potential of products for domestic and industrial use. "It is encouraging to know that a world-class is successfully operating in Mytishchi. It is through such enterprises, which introduce new technologies and sell their products on the European market, that our future, the future of the Russian economy is secured", — said Maxim Suraev.
At a meeting with SST Group staff representatives, M. Suraev spoke about his upcoming participation in the "United Russia" primaries as a candidate for the State Duma. His constituency includes three large municipalities: the urban districts of Mytishchi, Balashikha and the city of Reutov, with a total population of over five hundred thousand people. In his speech, Maxim Suraev focused on topical issues for Moscow residents concerning construction of kindergartens, schools and the development of urban infrastructure. M. Suraev also answered questions from SST Group employees, which were mainly about space. The astronaut signed the SST Guests of Honour book and presented company staff with an aerial photograph of the Earth, taken from the window of the space station.