The conference was devoted to the launch of the first conductive plastics and self-regulating heating cables to be manufactured in Russia.
The conference was attended by leading experts from the domestic cable industry, representatives from oil and gas enterprises and defence companies, federal and regional authorities, and business and industry associations.
In attendance at the opening ceremony were the Deputy Director of the RF "Minpromtorg" Department for Machine Tools and Investment-based Machine Building, Oleg Tokarev, the first Deputy Head of the Mytishchi city district, Andrey Churakov and Head of the Central Russian branch of Sberbank, Sergei Ganiev.
At the plenary session of the conference was SST Group CEO Mikhail Strupinsky, who outlined the essential importance of domestically manufactured self-regulating heating cables in secure energy systems for Russian industry and fuel and energy companies.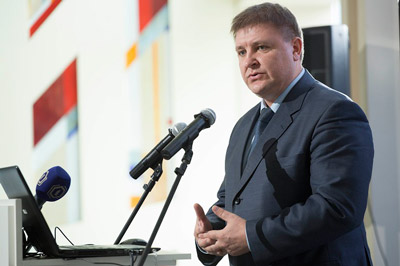 CEO of JSC "VNIIKP", Gennady Meshchanov, presented a report on the outcome of, and the prospects for, development of the domestic cable industry.
Presentations during theme-based sessions were given by heads and leading experts of "SSK" GK, including Prof. of STI MEI Mikhail Boev, chairman of Technical Committee 403 for Explosion-proof equipment, Zalogin Alexander, and representatives from SST Group partner companies.
Self-regulating heating cables are a key element of electric heating systems, which provide protection against climate risks for industrial facilities in strategic industries. The SST Group launch at the Gamma Special Design Bureau of domestic mass production of these cables provides new opportunities to improve the energy and technological security of fuel and energy and Russian defence industry enterprises.
Features of the new SST manufacturing complex, will, in the short term, allow for consumption demands of oil and gas, chemical, nuclear and other strategic sectors for domestically manufactured self-regulating cable for electrical heating systems to be fully met.
This issue is one of the Action Plan goals for import substitution in the power engineering, cable and electrical industry of the Russian Federation, approved by Order no. 653 by the Ministry of Industry and Trade of the Russian Federation, on March 31, 2015.